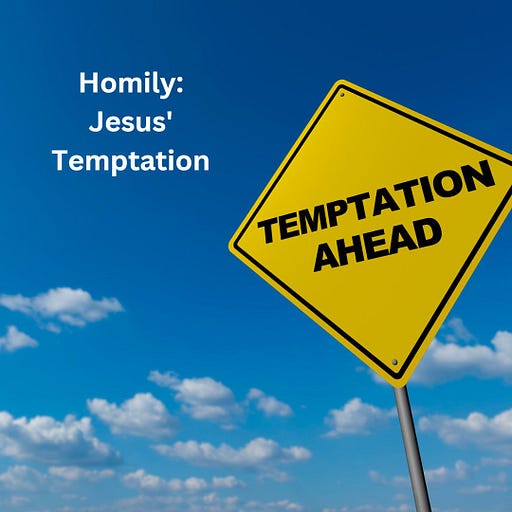 Feb 28 • 13M
Homily: Jesus' Temptation
I have a great ancestor who died trying to prove his ability to work. True story. This was about 100 years ago and he was a longshoreman. He had appendicitis and underwent an operation. The doctor told him that he was not to pick up anything for some time. However, he still went to work. We are talking about unions this week with Bruce Boccardi of our parish and as I wrote this, I was led to think why was he at work at all. This was prior to 1914 when strikes, etc. including among longshoreman was legalized in the US. So I am sure he had to show up for work no matter what.
The guys working with him kind of bullied him for his perceived weakness because he could not pick up anything so they dared him to pick stuff up. Obviously, he, not wanting to appear weak, took up the dare which opened up his operation and he died on the spot. Left his wife with I believe ten children.
He had to prove he was not what they say about him.
Now understand that story and look at the temptation in the desert. Notice what the devil says to Jesus. If you are the Son of Man then turn these stones into bread. Now, this would appear to be a good thing. He can feed people and show people how much he cared for them. However, in order to do that he had to prove to the devil who he is and his response is. Man does not live on bread alone but on every word that comes from the mouth of God. This tells us two things. Our spiritual lives feed our physical lives. Jesus makes it clear that we live on bread but not on bread alone. Our bread without the word of God is not lifegiving.
Pope Benedict XVI points that out and it is something that happens all the time especially if you work with the poor. If the state supplies all our needs it does so bureaucratically. It does so by turning everyone into a number which can be fed into a computer and then calculating it all and acting on the calculations. There is no love in that and further many people as is always the case fall through the bureaucratic cracks. So, yes Jesus could turn the stones into bread, he could feed the world as an agency but not as the loving God he is.
Second, he would be proving to the devil who he is and he makes it clear he knows who he is and he does not have to prove anything to anyone. Unlike my great-grandfather.
Then the devil says to Jesus he can jump off the parapet and be rescued by the angels again, he could do that and by doing it he is proving who he is. He does not have to prove anything to anyone. Let us look at this another way. When people demand some sign that he is who he says he is, Jesus' response is no. Because he would be encouraging them to believe on their terms. We accept Jesus on his.
The third case is something I always demonstrate is important. The devil says that all the power of the world has been given to him and he can give it to Jesus if he worships the devil. Jesus does not refute that statement. I always point that out.
A good politician will always seek to worship the one true God in service to his or her people. A good politician will pray that he or she may make the best decisions for the people. It does not matter what party we are talking about, what faith they believe in, if they want to serve the people best they must be people of prayer. The same goes for every other leader.
The best leader will be whom he or she is but will still pray every night that God will help him to best serve his or her constituents. If they take their knowledge and bring it to God humbly asking him to help them make the decisions that will help them best. That by the way is not a theocracy. A theocracy is where the written law of God becomes the law of the land. This country is based on something different. The key to living our faith is in all things charity and so our role is to lead in ways that we seek to do all things in charity. To be as gentle as doves and wise as servants.
The most important question you can ask a political candidate is: "Do you pray?"
It is not, by the way, "Do you believe in God"?" The latter does not imply the former, the former always implies the latter.
The same can be said for you. The most important thing you can do today is pray. Now it is the first Sunday of Lent so if you do not pray, this is the best time to start. If you need suggestions let me know.
However, be people of prayer and pray.
This is where our faith is put into action. This is what gives us the power to do our best in drawing on our strength in doing the will of the Father.
This is where we become who God wants us to be. 
Photo: via CanvaPro
Come Visit St. Anthony Parish in Allston, MA
Check our radio program/podcast
Thanks for reading Catholic Audio Media Newsletter! Subscribe for free to receive new posts and support my work.